October 2017 Newsletter from The Nutcracker Lady
A VISIT FROM ADOLF HEIDENREICH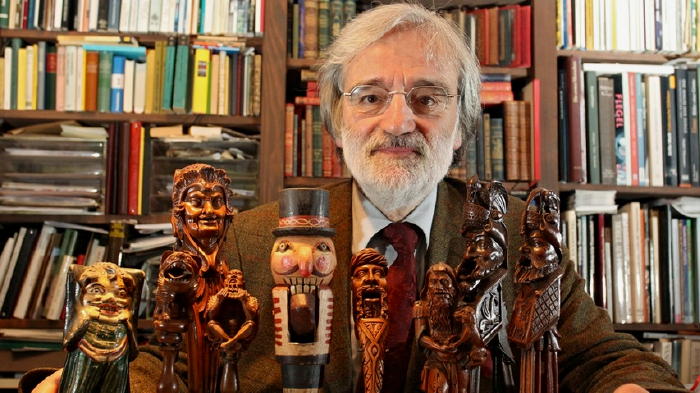 Adolf Heidenreich of Gemünden, Germany, world renowned authority on antique nutcrackers, visited Leavenworth in September. He became interested in nutcrackers as he is a vegetarian, and was looking for tools to open the nuts. He found few nutcrackers, but discovered a fascinating history which he studied for over 20 years before writing his book "NUTCRACKERS--Shape and History". In this book he shows the chronological development of nut cracking devices from prehistoric times until today, documenting in detail the great artistic and creative variety of the oldest tool of man.

When coming to Leavenworth, Herr Heidenreich carried with him a 16th century carved boxwood nutcracker whose shape is part lion and part man. This nutcracker had been purchased from a French antique dealer by Arlene Wagner through negotiation by Herr Heidenreich who offered to deliver it in person to the U.S.
Herr Heidenreich was honor...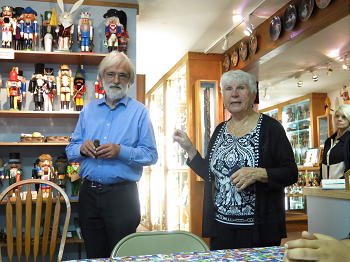 Herr Heidenreich was honored at an Open House at the Nutcracker Museum where he unveiled this special nutcracker and it was seen by the public for the first time. He explained the nutcracker to attendees as Ingrid Rody, Nutcracker Museum board member interpreted.
---
Heidenreich explained that...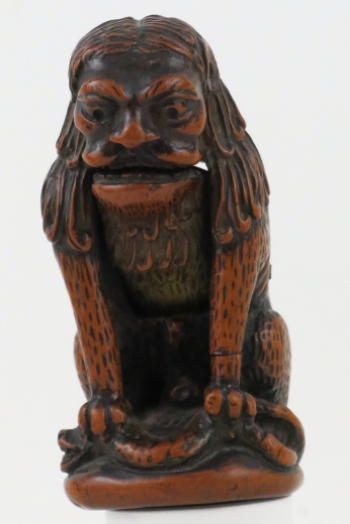 Heidenreich explained that many symbols were used in the early centuries, and the Lion was a symbol of strength. This nutcracker no doubt represented a king who was considered strong.
---
The Snake is a symbol...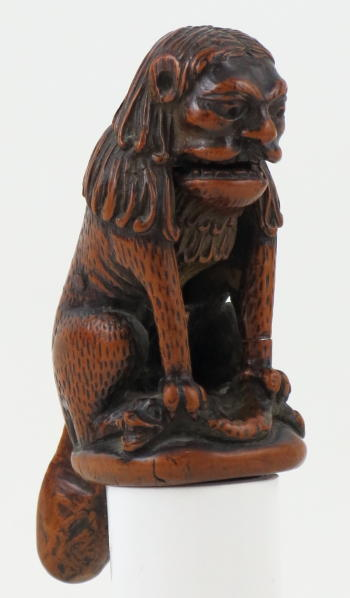 The Snake is a symbol of evil, and here the lion is shown crushing the snake, indicating that the king will protect the people.
---
The nutcracker is quite small measuring 4.75 inches...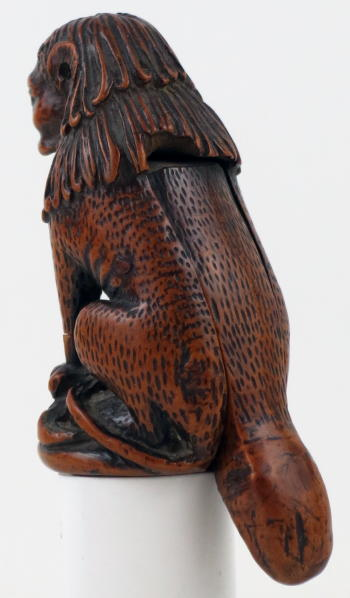 The nutcracker is very small, with a very small aperture, and was used to crack the cob nuts, a wild hazelnut. Over all it measures 4.75 inches from top to end of lever. Many nutcrackers are shown in the Leavenworth Nutcracker Museum whose receptions for nuts are very small which helps to identify the age of the instrument.
---
Quick Links
Federal ID #91-2143303

A Non-Profit 501(c)3 Organization
Contact Us
735 Front Street
P.O. Box 2212
Leavenworth, WA 98826
(509) 548-4573
MUSEUM HOURS
Open 7 Days a Week
1:00PM - 5:00PM

Nutcracker Museum Mission Statement:
"To foster and encourage the interest of the general public of the importance of nuts in the diets of humans throughout history and in the evolution of the nutcracker. No other tool or collectible has shown such a wide diversity of material and design as the implements used to crack the hard shell of a nut"
Museum Admission:
Adults - $5.00 (Ages 17 - 64yrs)
Seniors - $3.50 (Age 65yrs +)
Youth - $2.00 (Ages 6 - 16yrs)
Child - FREE (Ages 0 - 5yrs)
Active Military - FREE (Spouse & Children Free with ID)