Before you begin your collection, you should visit the Leavenworth Nutcracker Museum in the Bavarian Village of Leavenworth, Washington or the Erstes Europa Nussknacker Museum in Neuhausen, Germany which is located in the Erzgebirge. Here you will see the many different kinds of nutcrackers that have been made over the centuries and the variety seems endless…from strictly utilitarian mechanical to delicately carved wood…from hand forged iron to beautifully cast sterling silver…from simple designs to works of art. This will help you decide what kind of nutcrackers you would like to have in your collection.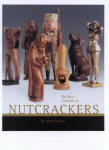 If you cannot visit the museum in person, read "The Art & Character Of NUTCRACKERS" that will show pictures of many many different nutcrackers. Also be sure to read Bob Mills book "Nutcrackers" published by Shire Publications. This is a small book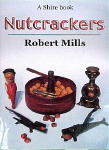 loaded with information on antique nutcrackers. Another book, now out of print, but probably available through your library is "Ornamental and Figural Nutcrackers" by Judith Rittenhouse and published by Collector Books.
Some terms you need to get acquainted with are Figural which means it is made in the image of a human or an animal, Treen which is the term used for old wooden articles used in the home, and Patina which is the rich glow that comes with age, usage or oxidation. Sometimes the word nutcracker will be divided to make nut cracker, and the English usually say nutcrackers.
Some people collect only the useful mechanical nutcrackers made especially for the pecan nut. The pecan is native only to America, and is found in many of the southern states. Many people have a pecan tree in their yard since it makes excellent shade from the hot summer as well as producing a bountiful supply of delicious nuts. Because of this, many people were encouraged to develop the "perfect" pecan nutcracker and many have been patented since the US Patent Office opened in 1836.
Many people collect the hand held metal levers. These have been in existence for many centuries. The Le Secq des Tournelles Museum of Rouen, France shows ironworks from the 2nd to the 18th centuries and has a large display of early nutcrackers. You will also find many such nutcrackers in the Leavenworth Nutcracker Museum. Some of the very earliest ones are works of art even though the metal being hand forged was red hot! Many varieties of hand held lever type nutcrackers have been produced in the United States and Europe over the past 200 years. You can find these metal nutcrackers at antique stores and shows, at garage sales and auctions. You may even find some of these old lever nutcrackers in your grandmother's kitchen, since nuts did not always come from the store all shelled and packaged.
Many cast brass lever nutcrackers were made in England in the 18th and 19th centuries. Some are plain, while others are ornately decorated. You will find cats, dogs, lions, crocodiles, skeletons, and the popular ladies legs nick-named "Naughty Nellies". You will also find Shakespeare, Fagin and Sykes, and Mr. Pickwick.
Cast iron figurals is another favorite category. Most have these have been made in England and the United States. Some will date back to the late 19th century. Once the difficult task of making the mold was finished, a great number of a design could be produced very easily. You will find many copies of the original dogs and squirrels.
Collecting antique wooden toy soldiers nutcrackers is very difficult since repeated usage damaged the wood. While the modern wooden toy soldiers are usually used only for decoration, the earlier ones were actually used to crack nuts. Badly damaged nutcrackers were no doubt used for kindling and replaced by a creative family member. You can still find wooden toy soldier nutcrackers that were made mid 20th century. Those made while the Erzgebirge region was under Communist control will have GDR or Expertic on the label or stamped on the bottom.
Carved figural nutcrackers make a very interesting collection. The early 16th, 17th, and 18th century specimens are extremely rare and expensive, but you can still find those made in the late 19th and early 20th centuries. Some collectors will collect only animal figurals while others want only the human figures. While most of these figurals are of the lever type, many will be found using the screw mechanism.
The Anri wood carvers in the Italian Alps produced a large number of nutcrackers in the early part of the 20th century. You can find pictures of many of these in the book Anri Woodcarvings by Philly Rains and Donald Bull.
You will want to choose each piece for your collection carefully so you will enjoy it for years to come. Watching your collection grow brings much satisfaction, and finding a special nutcracker at an antique show is always exciting!