Love Tokens and Valentine's Day….
I
tems given as a token of love and having a sentimental value are known as love tokens. The custom of making and/or giving articles decorated with hearts or love messages has been common for many centuries. These may be knitted scarves, cookie molds, lace bobbins, combs, pins, lockets and intricately carved items such as Welsh love spoons.
---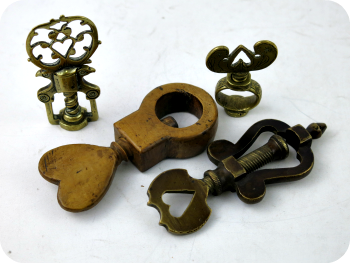 And yes, even nutcrackers. In the 16th century Henry VIII gave his second wife Anne Boleyn a wooden decorative nutcracker. In going through the Museum I found 18th century brass, bronze and wood nutcrackers with heart decoration, and no doubt these at one time had been gifts of love.
---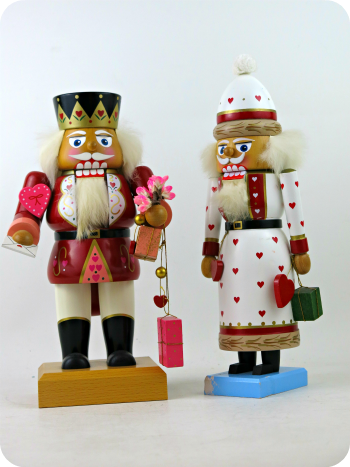 Valentine's Day began as a pagan celebration, and it was not associated with love until 1300. Birds started mating in February so the whole month began to be known as the month of love. In the 17th century cards were being sent to loved ones, and in 1840 a commercial printed card was available. Today there are over 1 billion cards sent each year. The colorful designs of E. M. Merck for KWO would make delightful Valentine greetings.
---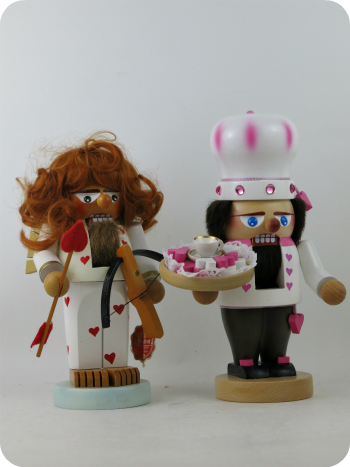 There are over 35 million heart shaped boxes of candy given each year. George paid 25 cents for a little heart shaped box of candy for me in the 6th grade, and another until his junior year when he joined the Marines as war was declared on Japan. Later when we got together again the custom resumed. Today that same little box of candy is $3.50. Here is a nutcracker by Christian Steinbach showing treats that were made for Valentine's Day.
---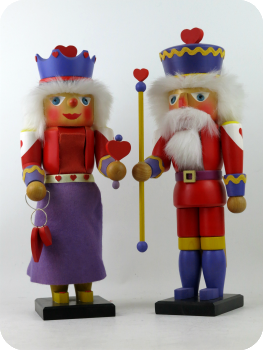 Four billion dollars are spent in the US for Valentine's Day, and there are more proposals of marriage made on this day than any other. Here is a picture of Ulbricht's Queen and King of Hearts who would represent a happy Valentine's marriage. They were created in the Ulbricht workshops in Lauingen in 1985 and are still standing side by side.
---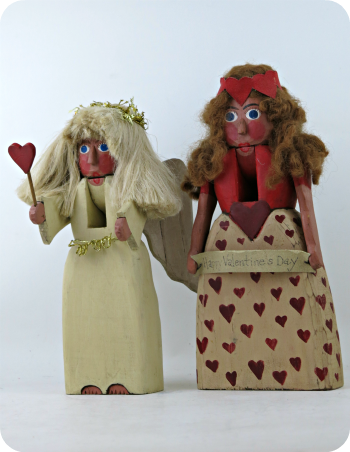 The delightful folk art carvings of Mary Myers of Virginia are enjoyed by many. The angel pictured here is holding a Valentine, which appears to be a candy heart, and accessories are included with the nutcracker for many other holidays throughout the year. There are over 8 billion candy hearts produced each year.
---

62% of the people in the US celebrate Valentine's Day, and it is also celebrated in Canada, Mexico, France, Australia, Denmark, Italy, Japan and the United Kingdom. And did you know that there are 9 million people who will buy their pets a gift for this special day?


Arlene Wagner, The Nutcracker Lady



Leavenworth Nutcracker Museum


Email: curator@nutcrackermuseum.com