Kids are welcome & encouraged
You will find lots of interesting things at our special "Kids Love Nutcrackers" website.
All children love nutcrackers, and they are fascinated with the many characters they find, from Mickey Mouse to Darth Vader. The preschoolers will find a low case, just their size, filled with Disney and Sesame Street characters. The kindergarten students will find story book characters such as Red Riding Hood and the whole cast of Wizard of Oz. Grade School students will find our Folklore heroes, presidents such as Washington and Lincoln, and nutcrackers representing the various countries. Older students will be fascinated with the characters from King Arthur's Court, and the many creative ways man has developed to open the hard shell of the nut.
There is lots to see for all ages, and in addition, students 5 and up can go on a "Nutcracker Hunt".
GOING ON A NUTCRACKER HUNT.........
The Nutcracker Lady has devised "Nutcracker Hunts" for beginning readers through adults. Armed with a list of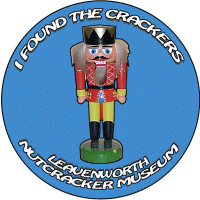 nutcrackers, a clipboard and a pencil, students can roam the museum hunting for those named on their sheet. A completed list deserves a pin that states "I Found The Crackers".
The first hunt contains such nutcrackers as Mickey Mouse, Clown, Soldier, Witch and Man with Long Nose, then the lists get harder as age increases.
Soon they will be looking for the Mouse King, Panda Bear, Train with Engineer, Sneezy, and a Baseball Player. Then they will look for such nutcrackers as a Fisherman, a Farmer, a Rooster, the Cowardly Lion and an Alligator
Harder yet comes nutcrackers like Pinnochio, Soldier in Camouflage, Monkey in a Top Hat, Boy on Snowboard and a Pig. By beginning teenage, students are looking for an Elephant, Guitar Player, Astronaut, Kangaroo, and a Shoe that cracks nuts.
High School students are looking for a Metal Donkey, a Bear on a Sled, Columbus, a Cave Man, or a Three Legged Man. And Adults? Oh Yes, even harder things we have for their lists!!!
The Nutcracker Lady will be available to give some hints when someone really gets stuck!!! And for the ones too young for the hunts, she will have a coloring sheet they can take home.
Quick Links
Federal ID #91-2143303

A Non-Profit 501(c)3 Organization
Contact Us
735 Front Street
P.O. Box 2212
Leavenworth, WA 98826
(509) 548-4573
MUSEUM HOURS
Open 7 Days a Week
1:00PM - 5:00PM

Nutcracker Museum Mission Statement:
"To foster and encourage the interest of the general public of the importance of nuts in the diets of humans throughout history and in the evolution of the nutcracker. No other tool or collectible has shown such a wide diversity of material and design as the implements used to crack the hard shell of a nut"
Museum Admission:
Adults - $5.00 (Ages 17 - 64yrs)
Seniors - $3.50 (Age 65yrs +)
Youth - $2.00 (Ages 6 - 16yrs)
Child - FREE (Ages 0 - 5yrs)
Active Military - FREE (Spouse & Children Free with ID)